"Robot MG-2" ("Robot Marat Guelman-2") was created as an alter ego and substitution for its preoccupied biological original - Marat Guelman, famous Russian gallerist, curator and politician.
"MG-2" participates in art exhibitions and conferences, but not as an accessory or a toy - the "Robot" is replacing its protagonist, who chose to pursue business and politics and decided not to spend too much time answering questions about contemporary art.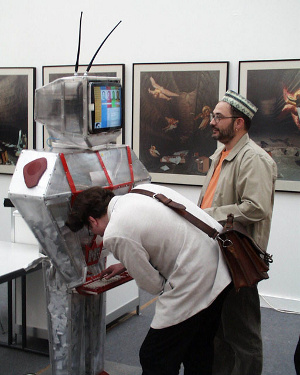 Marat Guelman and his robotic copy at the exhibition during "Art Moscow 2001"
"MG-2" knows answers to most of the questions Marat Guelman often gets to hear - the machine was trained personally by him. The "Robot" is capable of maintaining a conversation; e.g. once asked about current art situation in Moscow the machine would invite you to visit the gallery run by Marat.
Visitors can talk to the machine by using a keyboard which the "Robot" is holding in its arms. Answers are displayed on the display mounted in the head of the construction and words are spoken outloud with original, robotic voice using text-to-speech software.
A.I. software written by Dmitry Zhuravlev based on a "knowledge database" that contains all the answers the machine can give as well as some general structures of Russian language. Inside the body of the "Robot" is a hidden, modified PC which takes care of user input, blinking of the screen and it some times flirts with the visitors by making strange noises.
"Robot MG2" was shown at:
"Art Moscow 2001", art fair, Moscow 2001
"Art Moscow 2002", art fair, Moscow 2002
"Media Art and Mass Media", Pushkinskaya 10, Saint-Petersburg 2002
"Guelman gallery", Moscow 2002-
"Robot MG2" is courtesy of Guelman.Ru