MASTER

/

SLAVE ;

MASTER

/

SLAVE ;

MASTER

/

SLAVE ;

MASTER

/

SLAVE ;

MASTER

/

SLAVE ;

MASTER

/

SLAVE ;

MASTER

/

SLAVE ;

MASTER

/

SLAVE ;

MASTER

/

SLAVE ;

MASTER

/

SLAVE ;

MASTER

/

SLAVE ;

MASTER

/

SLAVE ;

MASTER

/

SLAVE ;
---
'Master / Slave' - human puppetry project by Danja Vasiliev, PZI & V2_Lab, summer 2007.
Thanks to Kristina Andersen for supportive advices, to Stock for practical solutions and emergency coding, to Florian Cramer for influential hints and moral support.
---
We often think that we are in charge of a situation, in control of a machine, aware of what is going on in general. However this is not always, or may be even never, the case (true != 1). In the hide of 'duplex' bidirectional systems that allow and expect 'interaction' from the user it's rather hard to recognize their dominative behavior. Yet the question whether peoples decisions are or aren't their own (un/affected by the environment, tools, images of other people) is open.
---

---
'Master/slave' proposes an experience of taking control on another person by physically connecting to his/her immaterial image. The image represents a person who interacted with the installation before and by doing so left snapshots in the system. By pulling the strings you can play a 'puppet' of your predecessor and see how your own moves are 'influenced' by your on-screen opponent. The process is a continuous progression and over/inter -layering of mutual intercourse (intercommunication), after all - among the real people.
---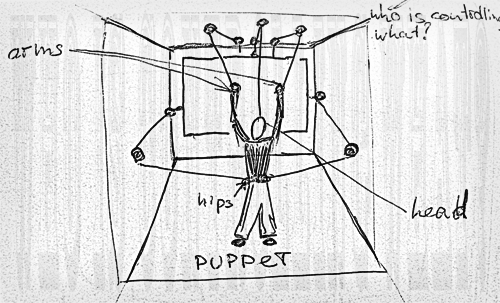 ---
By using ropes attendee's body gets connected to a set of sensors. Each 'sensor' is a modified computer mouse (HID) made to track the direction, strength and velocity of the movements. All of them work independently, continuously feeding 5-dimensional array of data-streams into a PC hidden under the stage. Software set, consisting of few PD (pdp&GEM) patches communicates via OSC to a Python script (thanks StK!), calculating the image sequence and taking new video snapshots at the same time.
---
check out the pictures: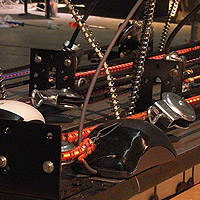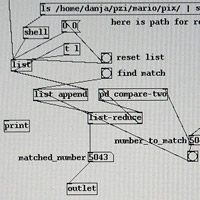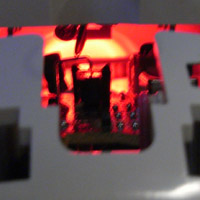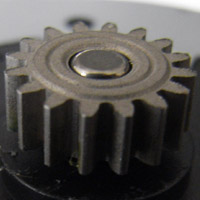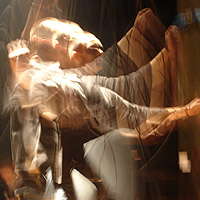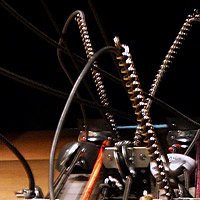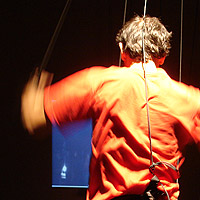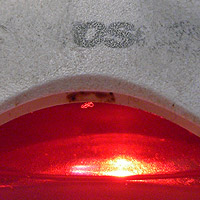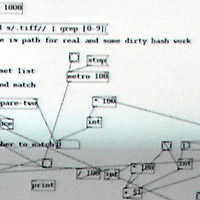 see Flickr photo set, including secret build-up pictures!
---
---
fetch the video presentation (mpeg4, 18mb, music: "Caribace, Love Dub")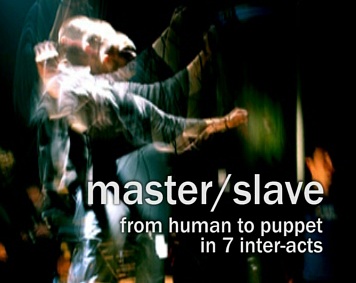 ---
check out the clips (~20mb each, mpeg4, no sound):
---

Master/slave

, 2008 by Danja Vasiliev is licensed under a Creative Commons Attribution-Noncommercial-No Derivative Works 3.0 Unported License.